One more year, Birding The Strait has participated in the Global Big Day in Andalucia. This time, we planned a route in the province of Cadiz, from Doñana to the Strait of Gibraltar. We decided to skip the Grazalema mountains in order to reduce the mileage and increase the effective birding time. All in all, it proved to be a most enjoyable day of birding. Moreover, we established a new record of species for the Global Big Day in Andalucia.
This is the chronicle of our Global Big Day 2021:
Sunrise in Doñana
Before dawn we headed for the Guadalquivir river mouth. We made a stop to observe the Bald Ibises roosting peacefully at their breeding colony in Vejer de la Frontera. Next, with the first light of day, we had a most remarkable observation: a striking subadult Spanish Imperial Eagle. The observation was so good that we managed to read the code on the ring she was wearing (white RH). Later on, we learned that this bird was born in Doñana in 2018.
We spent the rest of the morning visiting several of the most strategic spots of the region. Here, we had much joy observing Marbled Teals, White-headed Ducks, Pin-tailed Sandgrouse, Red-knobbed Coots, Spectacled Warblers, Western Olivaceous Warblers, a varied array of waders and hundreds of Flamingos, to name but a few.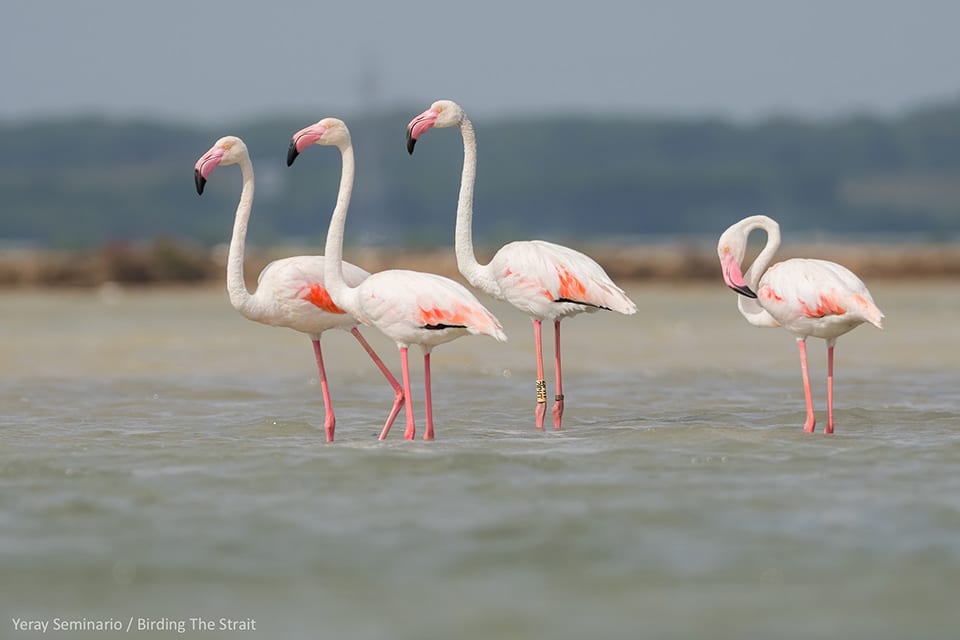 However, the highlight came as a Rufous-tailed Scrub-Robin singing right in front of us. Unexpectedly, we did not find a single Whiskered Tern, but something had to be left for the next time after all…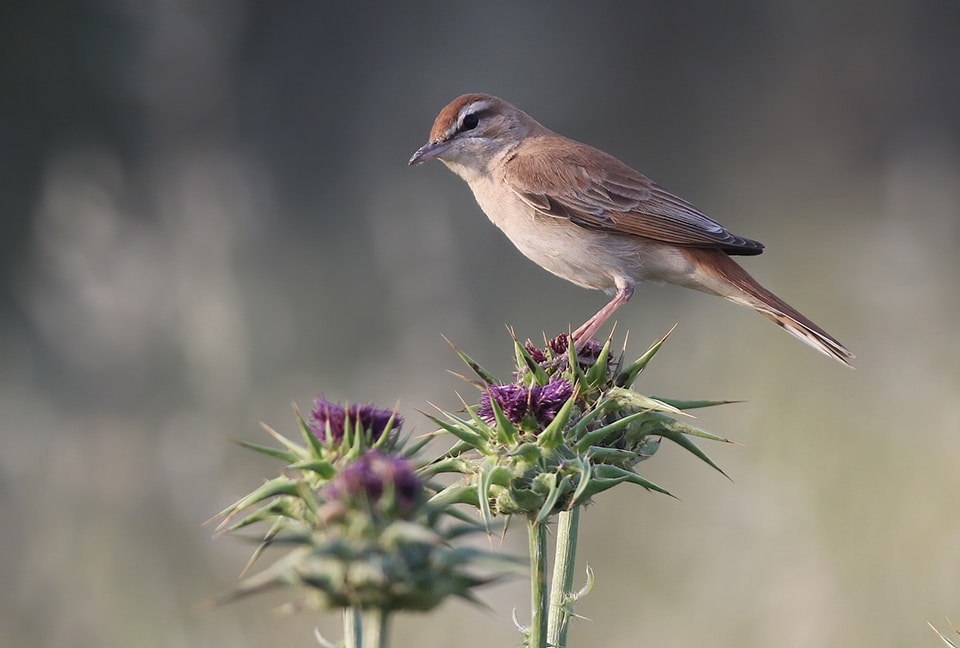 Before moving forward, we made a mandatory visit to the Little Swift colony in Chipiona, truly lively this time of the year.
Noon in the countryside
During the central part of the day, we toured the countryside between Medina Sidonia and Benalup. Here the star was a male Little Bustard in full courtship display. The good weather made it easier for us to continue detecting common species at a good pace. Suddenly, we came across an impressive group of more than 300 Griffon Vultures feeding on a carrion. Without hesitation, we decided to take our time to enjoy the show, hoping to find a Rüppell´s Vulture which never showed up…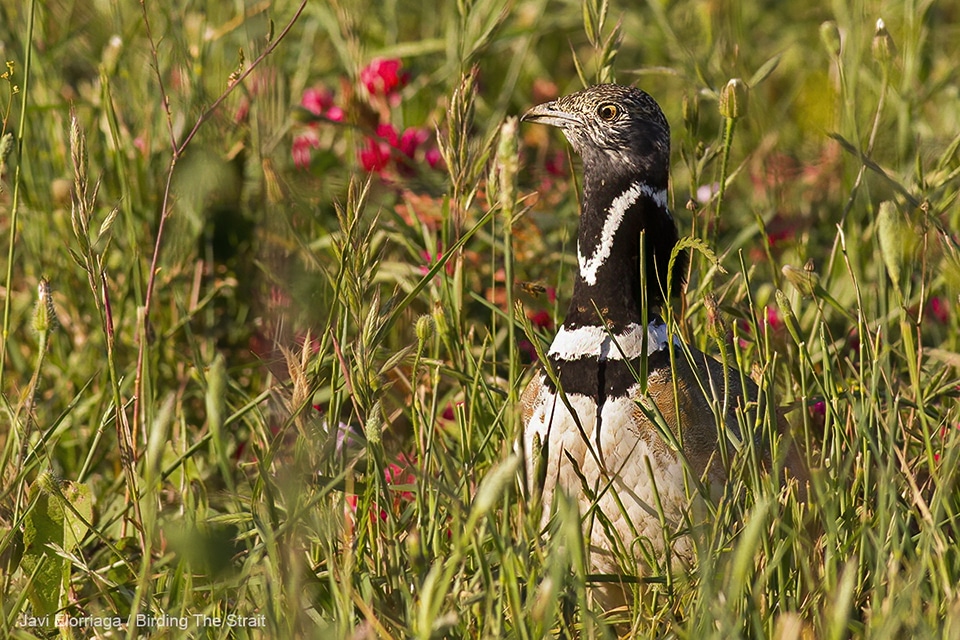 Afternoon at Los Alcornocales
During the first half of the afternoon, we went birding to the Ojén Valley. Remarkably, this is one of the best-preserved forests in the Los Alcornocales Natural Park. Here, we soon detected Golden Oriole, Iberian Chiffchaff, Sparrowhawk and all the expected forest-dwelling species. Moreover, a continuous stream of European Honey Buzzards in active migration crossed the valley.
As we were about to leave the valley, we came across a family who had just had a bicycle accident. We helped them to get out of the valley in our car. This setback forced us to rethink the route. Thus, we decided to take it easy, skip the visit to the Tarifa area and move directly to La Janda.
Evening in La Janda
Once in La Janda, we spent the golden hour observing a group of six Montagu's Harriers around their roost. At dusk, we easily spotlighted two Red-necked Nightjars. In addition, we also found two Barn Owls, two Tawny Owls and an impressive Eurasian Eagle-Owl that flew over our heads. Not bad at all!
Shortly before 11 P.M. we reached Facinas where a Eurasian Scops Owl welcomed us with its call. At this point, we decided to call it a day. We had a Big Day indeed but still did not know the number of species that we had found. However, the three of us agreed we have had an outstanding day of birding!
Global Big Day in Andalucia Aftermath
Overall, we observed 151 species and completed 24 checklists on eBird. All this at a rather easy pace. Remarkably, this represents a new record of species seen by a single team in Andalusia during a Global Big Day.
This result is only another proof of the great diversity of habitats and birds that the province of Cadiz holds, which fills us with joy.
As usual, all the information generated during the Global Big Day is available in eBird. It is noteworthy that the ornithological information provided by eBird is widely used in scientific research and conservation projects all over the world.
In this link to our website you can read more about our commitment with citizen science and eBird.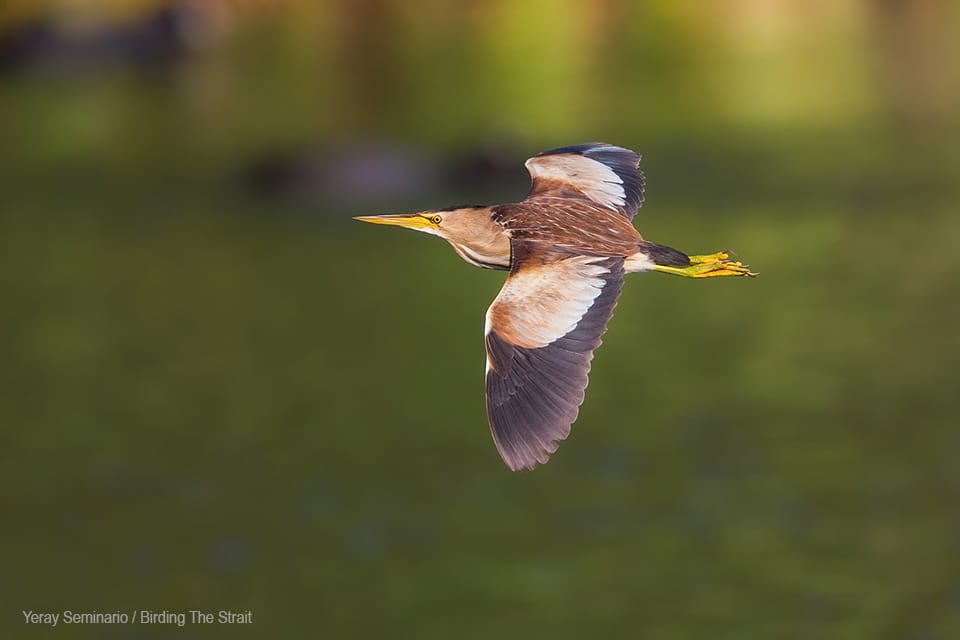 Acknowledgements
From Birding The Strait, we want to thank Laura Rollán and Guillermo Rodríguez for being part of our team at the Global Big Day. No doubt, their company and expertise was decisive. Thank you friends!
Finally, we also want to thank Excopesa Natura for making Zeiss binoculars and telescopes available to us. Undoubtedly, the use of this top-of-the-range lenses has contributed significantly to the success and enjoyment of the day.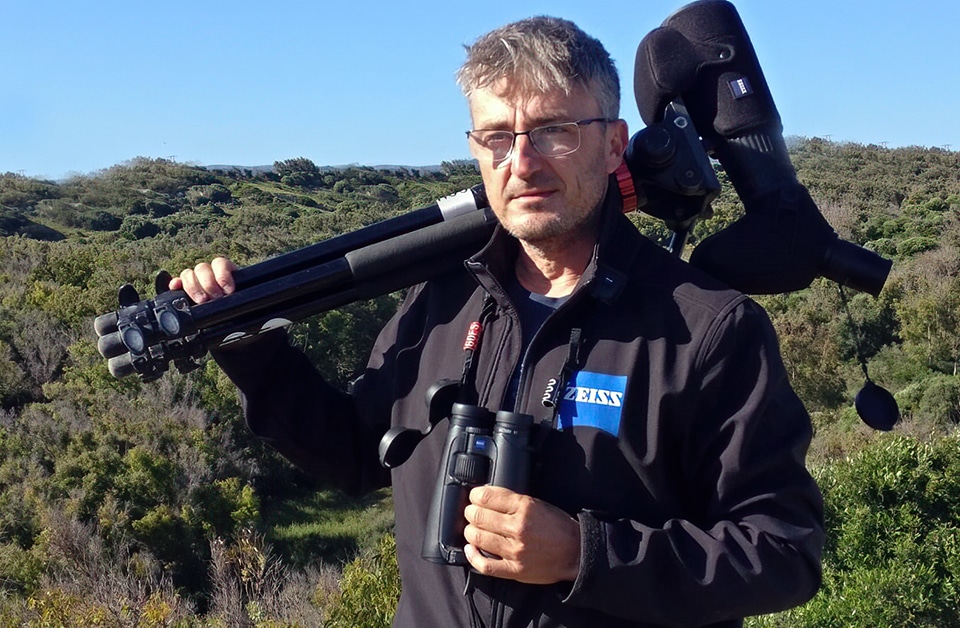 We are really looking forward the next Global Big Day in October!
Bird List
This is the complete list of birds observed during the #GlobalBigDay on May 8, 2021 by the Birding The Strait team:
Common Nightingale
Little Owl
Common Pheasant
Northern Bald Ibis
White Stork
Common Linnet
Melodious Warbler
Zitting Cisticola
Crested Lark
Common Magpie
Black Kite
Spanish Eagle
Short-toed Eagle
Gull-billed Tern
Common Woodpigeon
Rock Dove
Mallard
European Greenfinch
Spanish Sparrow
Rufous-tailed Scrub-Robin
Spotted Flycatcher
Spotless Starling
Sardinian Warbler
Red-rumped Swallow
Barn Swallow
Thekla's Lark
Woodchat Shrike
Glossy Ibis
Pallid Swift
Common Swift
Corn Bunting
European Goldfinch
Lesser Short-toed Lark
Calandra Lark
Greater Short-toed Lark
Common Kestrel
Lesser Kestrel
Black-winged Kite
Eurasian Spoonbill
Black-crowned Night-Heron
Squacco Heron
Cattle Egret
Little Egret
Grey Heron
Black Tern
Yellow-legged Gull
Collared Pratincole
Northern Lapwing
Grey Plover
Pin-tailed Sandgrouse
Collared Dove
Common Shelduck
Little Tern
Common Redshank
Pied Avocet
Black-winged Stilt
Eurasian Coot
Common Moorhen
Greater Flamingo
Common Pochard
Red-crested Pochard
Marbled Duck
European Serin
Western Yellow Wagtail
European Stonechat
Spectacled Warbler
Cetti's Warbler
Savi's Warbler
Great Reed Warbler
Eurasian Reed Warbler
Sedge Warbler
Common Raven
European Bee-eater
Common Buzzard
Red Kite
Booted Eagle
Great White Egret
Black-headed Gull
Slender-billed Gull
Wood Sandpiper
Green Sandpiper
Common Sandpiper
Little Stint
Dunlin
Curlew Sandpiper
Red Knot
Black-tailed Godwit
Little Ringed Plover
Common Ringed Plover
Kentish Plover
Western Swamphen
Little Grebe
Gadwall
Eurasian Blackbird
Short-toed Treecreeper
Dartford Warbler
Great Tit
Osprey
Ruddy Turnstone
Black-necked Grebe
Great Crested Grebe
White-headed Duck
House Sparrow
Common Waxbill
Black-headed Weaver
Common House Martin
Western Olivaceous Warbler
Purple Heron
Little Bittern
Red-knobbed Coot
Eurasian Hoopoe
Sandwich Tern
Common Tern
Sanderling
Lesser Black-backed Gull
Audouin's Gull
Little Swift
Bar-tailed Godwit
Western Marsh Harrier
Griffon Vulture
Little Bustard
Red-legged Partridge
Eurasian Jackdaw
Tawny Pipit
Great Cormorant
Egyptian Goose
Cirl Bunting
Rock Bunting
Common Chaffinch
Western Bonelli's Warbler
Eurasian Blue Tit
European Robin
Eurasian Wren
Eurasian Nuthatch
Common Firecrest
Eurasian Blackcap
Long-tailed Tit
Iberian Chiffchaff
Willow Warbler
Crested Tit
Eurasian Jay
Eurasian Golden Oriole
Great Spotted Woodpecker
Eurasian Sparrowhawk
European Honey-buzzard
Montagu's Harrier
Tawny Owl
Eurasian Eagle Owl
Barn Owl
Red-necked Nightjar
Eurasian Scops Owl