Day 6 , 18 February – Aousserd Road & Oued Jenna
After breakfast we met with Taoufik El Balla and Mohamed Samlali from ANI, who had kindly shorted out a visit to the Oued Jenna and Aousserd region for us. We jumped into their Landrover Defender which was loaded with everything we would need for our expedition in the Sahara. We left behind the famous Gled Jidanne and headed East along the mythical Aousserd road. In our first stop we walked to the top of a rocky hill where Mohamed showed us an amazing archeological site with numerous rock engravings depicting intriguing circles, mammals, humans and what we interpreted as a chameleon! In the sand we found recent footprints of a Sand Cat. Nearby we saw a family party of 6 Brown-necked Ravens and Black, Desert, Red-rumped and White-crowned (or White-tailed) Wheatears.
As we drove East, the landscape progressively shifted from a hamada rocky desert (reg) to a Sahel savanna landscape with increasingly abundant Acacia trees and large tussocks of grass. At midday we stopped under the shade of an acacia in a forested Oued, also known as Grara, and birded around while Mohamed prepared a delicious lunch upon coals in the sand. We couldn't believe our eyes when we realized that the group of birds in an opening of the acacias were no less than 25 Black-crowned Sparrow-Larks.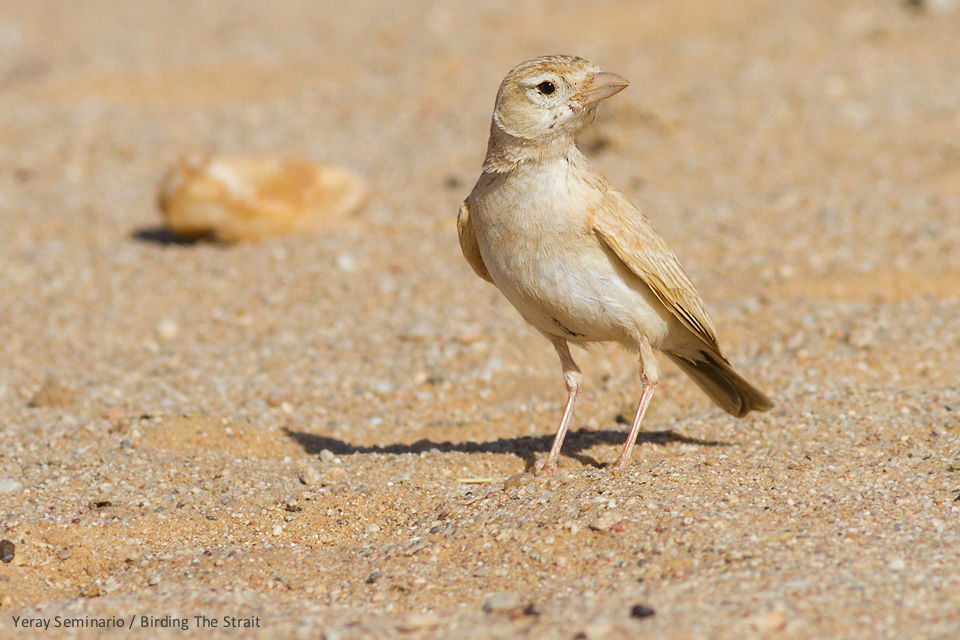 We took our time to admire and photograph this Western Paleartic highlight before checking the nearby trees. This produced 2 Northern Weathears, 2 Subalpine, 3 Spectacled and 1 Sardinian Warbler, plenty of Common Chiffchaffs, several Southern Grey Shrikes and Eurasian Collared Doves, 1 Eurasian Hoopoe, etc. Overhead 2 Common Kestrels chased an adult Long-legged Buzzard and higher up in the sky several groups of migrant hirundines passed by including Barn Swallows, Red-rumped Swallow, House Martin and Sand Martin. Back on the road we came through a family group of Cream-Coloured Courses, with three half grown chicks, a few more Greater Hoopoe-Larks, Desert Wheatears, and two massive Spiny-tailed Lizards basking by their burrows.
At a certain point Mohamed stopped the car and told us that that was the place where a few days before a common friend, Bob Swann, observed Dunn´s Larks. To our delight in less than 5 minutes of search we were lying on the ground to photograph two striking adults and a fledgling Saharan Dunn´s Larks (Western subspecies of Dunn's Lark, dunni, also known as African Dunn's Lark).
Our next spot was a group of acacias where Desert Sparrows had built their nests and a noisy group including fledglings was observed.
A few kilometers later we approached a group of dark birds roosting on a plain. These turned out to be hundreds of Black Kites, some of them actively preying on a swarm of African Migratory Locust while some further hundreds where kettling in a large thermal along with 12 White Storks. We estimated a total amount of 1200 kites!
We drove past the Oued Jenna signpost and following Mohamed's indications we first visited the East side of the Oued. Once again, his suggestion proved right and one of the first birds we heard and observed was an outstanding Cricket Longtail! The light of the late afternoon was simply perfect and, despite its restless activity, the bird behaved rather collaboratively and showed up well.
A group of noisy Fulvous Chatterers joined the scene and were properly registered in our cameras memory cards as well. We could never imagine that finding and satisfactorily photographing Black-crowned Sparrow-Lark, Dunn´s Lark and Cricket Longtail would be that easy. Unfortunately, we didn't find any Sudan Golden Sparrow, something we did not really expect, as no one has reported them in the whole area since the previous year (the first bird of 2016 was recorded in the area by Bob Swan and Peter Stronach on the 20th April).
The scenario was breathtaking, including a Saharaui shepherd in his characteristic blue clothing and turban, the grassy savanna and the black rocky slopes of Leglat Derraman mountains, its color intensified by the sunset light.
Ah the end of the day we walked across the acacias towards the road. We flushed a Great Spotted Cuckoo, 2 Eurasian Hoopoes, 5 Eurasian Collared Doves, 1 African Savanna Hare and observed one large Falcon and a Nightjar in the twilight, which we couldn't identify. In retrospective, recent sightings of Golden Nightjar in the region makes us think that we might have seen this extraordinarily interesting and new species for the Western Paleartic. Something to see during our next visit!
Fully satisfied with an outstanding birding day, we drove about 5 kilometers off-road to reach our campsite in an inner valley of Leglat Derraman mountains where we set our campsite. While cooking stewed Camel on an open fire, Taoufik and Mohamed illustrated us with the interesting history and lifestyle of the region and the many nature conservation activities that Association Nature Initiative is undertaking.
One more surprise was still in store for us. As we were getting ready to get into our tents a Nigthjar flew around us over the sand. Luckily enough we had our torches in hand and spotlighted the bird. We could determine it was a pale sandy colored nightjar lacking obvious light patches, an Egyptian Nightjar indeed!
Day 7, 19 February: Leglat Derraman and Aousserd Road
During the night we all could hear the calls of the Pharaoh Eagle-Owl and Little Owl. A little before breakfast be jumped out of our tents and found out that the breakfast was almost ready thanks to Mohamed. We wanted to take a walk, and we decided to explore Leglat Derraman. This is a magnificent place, with a few disperse acacias, sand dunes leaning against the massive dark rocks and surprising fresh water springs in the desert! In the wet sand we came through well marked tracks and excrements of a medium sized canid, an African Golden Wolf (Canis anthus)! Very recent genetic studies has revealed that the formerly considered Golden Jackal population inhabiting northern Africa is actual a new previously unknown variety of Wolf.
White-crowned Wheatears, quite common in the area, were singing loudly and resonating in the narrow valleys, while dozens of Black Kites were already soaring up to continue their way up north. When we climbed some of the rocks we started to see some other birds: Lanner Falcon, Laughing Dove, Trumpeter Finch and the only Desert Lark of the trip, among them.
When climbing a bit higher, we had excellent views of the low mountains around us and the town of Aousserd, where we would be headed later in the day. We heard the familiar call of the Long-legged Buzzard, and we just needed to rise our glance slightly to see one pair, that was, we came to realize later, very close to their nest. From the top, we could see some passing hirundines, including House Martin, Barn Swallow and Red-rumped Swallow. Amongst these, some pale grey birds caught our eye. They looked like Eurasian Crag Martins but paler, plainer, and the white "windows" on their tails were barely visible… they were Rock Martins! We suspected that they could be here, but we weren't aware of any recent reports of this species in the area. Indeed, very few birding expeditions have been conducted in this area in recent years, so we were quite happy to add them to the list.
We started the easy descent and stopped occasionally beside the acacias, which held some other passerines: Subalpine Warblers, Common Chiffchaff and Southern Grey Shrike. Then, we went back to the landcover to continue our way to Aousserd.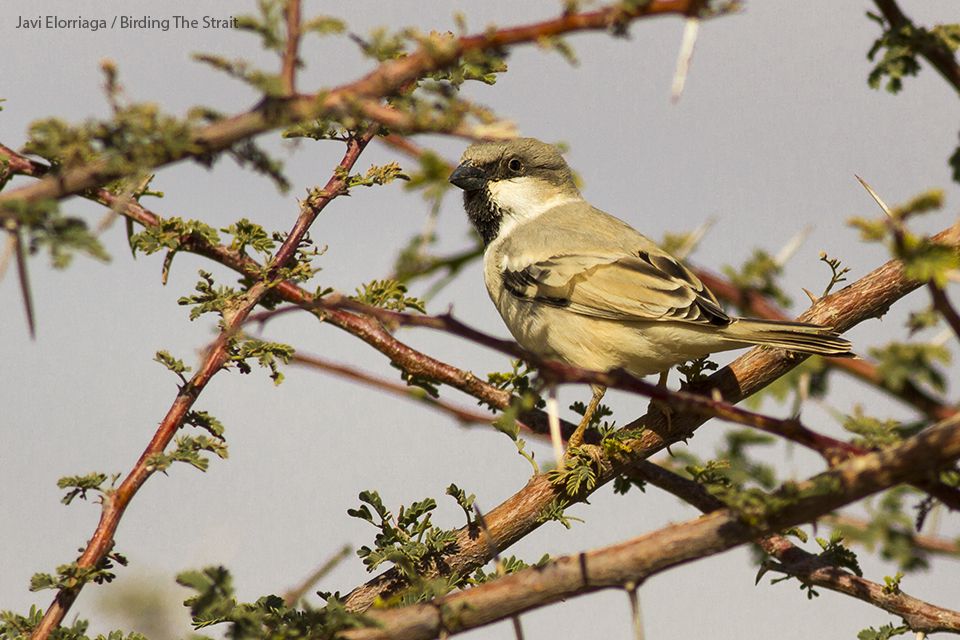 When we were already on the desert plains, a few larks passed by nearby, so we stopped immediately. The first bird we saw, was a Dunn's Lark, which we didn't expect to see here, but suddenly a larger bird called our attention: a Thick-billed Lark! We also saw a single Bar-tailed Lark that was another species for our list.
We stopped in Aousserd to have lunch and visited the works for the future environmental visitors center that will be managed by Association Nature Initiative, which aims to be a reference location for researchers and nature enthusiasts of the region.
On our drive back to Dakhla in the afternoon we took a short walk near Aousserd that produced some Desert Sparrows, Eurasian Hoopoe and Southern Grey Shrike. We continued until the Km 175, where we wanted to give a try to one of the specialties that had eluded us until then, the African Desert Warbler, a lovely, restless little bird that breeds in semi-deserts. To our surprise, it didn't take two minutes to find one singing from the top of a bush! Not only that, but we found at least two more individuals in the area, along with Dunn's Lark, Greater Hoopoe-Lark and Black-crowned Sparrow-Lark. In less than 20 minutes we were already back in the car and on our way to Dakhla Attitude to rest.
—
The next post will be the third and last part of the trip report, which includes highlights like the exciting boat trip in the Bay of Dakhla and the visit to Duna Blanca, one of the most spectacular locations of the whole region.