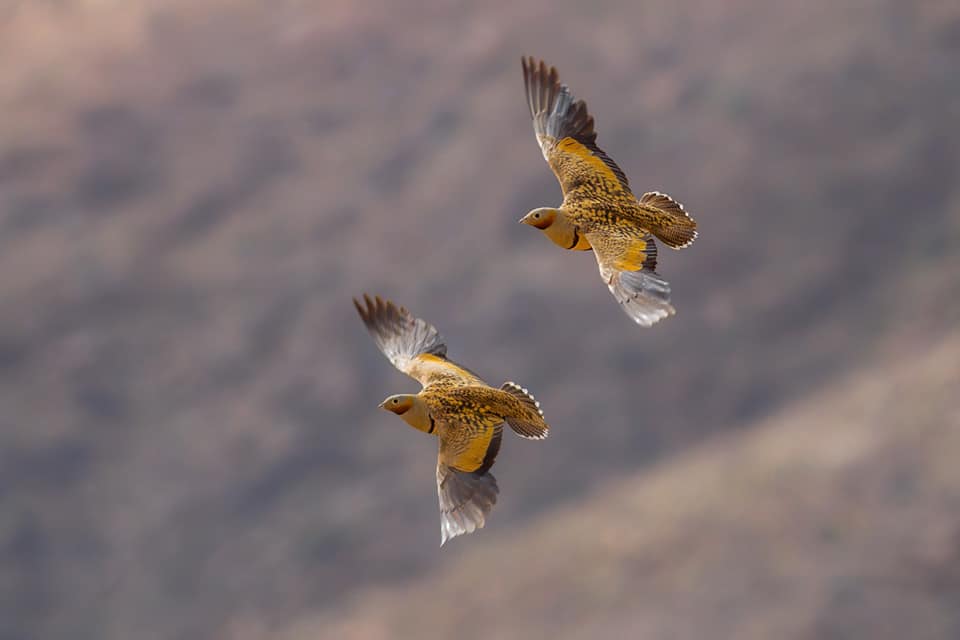 Birdwatching in the Canary Islands Tour
Endemic Birds of
Fuerteventura and Tenerife

• Price: 1785€
• Dates: Dec 2-8, 2023
• Places available: 2
Overview
The Canary Islands are a volcanic archipelago with a subtropical climate and unique avifauna. As an extension to a birding trip to the Iberian Peninsula or Morocco, these islands are the perfect choice. Our Birdwatching in the Canary Islands Tour is dedicated to finding all the endemic birds in Fuerteventura and Tenerife.
The individual islands have distinct microclimates and are home to different species and endemics. During this trip we will visit two of the seven islands: Tenerife and Fuerteventura. While Tenerife is well vegetated and has tracts of sub-tropical laurel forest, Fuerteventura, which is just 100 km away from the African coast, is effectively desert or semi desert.
Combining Fuerteventura and Tenerife gives us a chance to see all the endemic species and most of the subspecies in this birding tour. Some of the most interesting species we are likely to see here cannot be seen anywhere else! This is the case of the Laurel's Pigeon, the Bolle's Pigeon or the Blue Chaffinch, which can be seen in Tenerife, or the Fuerteventura Stonechat in Fuerteventura.
Itinerary
Day 1: Arrival to Tenerife
Arrival to Tenerife and drive to our hotel. If there's time in the afternoon, we will take a walk around the hotel, where we will have a chance to see our first endemic: Canary Islands Chiffchaff!
Day 2. Birding in Tenerife: Teno and Monte del Agua
Today we will visit the western part of the island, including Teno and Monte del Agua. We will focus on the endemic pigeons, Bolle's and Laurel Pigeon, which are probably the hardest endemics to get. Also, we will have chances to see Rock Sparrow and Barbary Falcon.
Day 3. Birding in Tenerife: El Teide and looking for the Blue Chaffinch
We will dedicate part of the day to drive the scenic road around El Teide, the highest peak in Spain. During the drive, we will be making strategic stops for birding. Some large patches of Canarian Pine are good for Blue Chaffinch and other local specialties, like Island Canary, Tenerife Goldcrest and Berthelot's Pipit. In addition, there are good chances of seeing the local subspecies of the Great Spotted Woodpecker.
Day 4. Flight to Fuerteventura and exploring the desert
Before flying to Fuerteventura we will have some time for birding in the northern coast of the Island for sea-watching. Cory´s Shearwaters will be present in good numbers. If necessary, we will focus and getting additional views of the local endemics. Then, we will fly to Fuerteventura and drive to hotel. If time allows, we will visit El Cotillo, with some coastal scenery and possibilities to see our first Houbara Bustards and Stone Curlews (aka Eurasian Thick-knee), and other passerines, including Lesser Short- toed Lark and Great Gray Shrike.
Day 5. Birding in Fuerteventura: Catalina Garcia and Tindaya
During the day we will visit the ponds of Catalina García, the vulture restaurant at Tiscamanita and the charming town of Betancuria. Here, we will have good chances of finding the endemic subspecies of African Blue Tit (ssp. degener) of the eastern Canary Islands. During the afternoon we will visit the reservoir of Los Molinos, Las Parcelas and Tindaya. This will be a good opportunity to see the endemic subspecies of Egyptian Vulture, flying flocks of Black-bellied Sandgrouse, good numbers of Ruddy Shelduck and the charismatic Trumpeter Finch.
Day 6. Birding in Fuerteventura: Fimapaire and El Carmen Saltpans
An early morning visit to the Fimapaire Barranco will give us a good chance to see Fuerteventura Stonechat and Barbary Partridge. In the afternoon we will head to the south of the island, visiting sites like Gran Tarajal, where Laughing Dove can be found. Other sites are Alares pond, El Carmen Salt Pans and Barranco de la Torre. These are good places to find waders and passerines like Spectacled Warbler or Trumpeter Finch.
Day 7. Departure
On the last morning in Fuerteventura, we will look for the eventual presence of previously found rare birds or any species that might have eluded us. Then, we will drive to the airport where the tour will conclude.
Top Birds
Barbary Partridge koenigii
Ruddy Shelduck
Cory's Shearwater
Egyptian Vulture majorensis
Eurasian Sparrowhawk granti
Common Buzzard insularum
Common Kestrel dacotiae and canariensis
Barbary Falcon
Houbara Bustard fuertaventurae
Eurasian Stone-Curlew insularum
Cream-Colored Courser
Yellow-legged Gull atlantis
Black-Bellied Sandgrouse
Laughing Dove
Bolle's Pigeon
Laurel Pigeon
Great spotted Woodpecker canariensis
Plain Swift
Eurasian Hoopoe
Great Gray Shrike koenigi
Common Raven canariensis
Lesser Short-Toed Lark polatzeki
African Blue Tit degener and teneriffae
(Tenerife) Goldcrest teneriffae
Canary Islands Chiffchaff
Eurasian Blackcap heineken
Sardinian Warbler leucogastra
Spectacled Warbler orbitalis
European Robin superbus
Fuerteventura Stonechat
Grey Wagtail canariensis
Berthelot's Pipit
Common Chaffinch canariensis
Tenerife Blue Chaffinch
Trumpeter Finch
Island Canary
Spanish Sparrow
Rock Sparrow
What's included
The price of this tour includes:
All accommodation from day 1 until day 7 (6 nights).
All meals, starting with lunch on Day 1 until breakfast on Day 7. This includes 1 drink with every meal and water during the whole duration of the trip.
Transportation in a comfortable vehicle for 5 or 9 pax depending on the final number of participants.
Flight from Tenerife to Fuerteventura.
Programmed entrance fees as in the itinerary.
A specialised birding guide fluent in English with extensive experience in the Canary Islands.
Welcome package with itinerary, travel information and checklist of the birds of the region.
Items not included in the price:
Any flights with the exception of our flight in the middle section of the tour from Tenerife to Fuerteventura.
Extra drinks.
Tips in hotels, service and guides.
Personal travel insurance.
Personal items.
For further details on bookings and cancellations, you can check out our general Terms and Conditions.
If at any time you have questions about this trip, payments, or other related topics please feel free to contact us.
Tour Basics
Guides: Javi Elorriaga and Yeray Seminario.
Length: 7 days.
Single Supplement: 365€.
Lodging: Mid-range hotels in Tenerife and Fuerteventura.
Food: Great local food. Dinners at the hotel, and some packed lunches in the field during the day. Specific dietary requirement will be attended.
Weather: variable, ranging from warm to mild temperatures, but colder weather expected during the evenings. Layers of warm clothes recommended.
Difficulty: this Birdwatching in the Canary Islands Tour is an easy one! with short hikes at a slow to moderate pace.
Tour Gallery
---