As an extension to a Western Andalusia birding trip last May, we guided a 10-day tailor-made birding trip to Morocco. The fairly demanding list of targets required "the grand tour", from the Strait of Gibraltar to the Sahara, including the steppes, the Atlantic coast and the High Atlas; in other words, the best Moroccan birding experience.
This way, on the 23rd of May we took the 09:00 a.m. ferry in Tarifa, arriving to Tangier one hour later and with our 4×4 waiting for us. We first visited the medina of Tangier and met our first target, the local population of House Bunting. Next we moved to the charming coastal village of Asilah where we had an excellent meal before reaching the Lower Loukos river. The marshes where dry and we struggled to find a single Brown-throated Martin beautifully perched in the reeds with Barn Swallows. This is a very early breeding species and the hundreds of birds we usually find here in our visits in March and April had already left the area. Next we embarked on a boat to explore the Merja Zerga Lagoon. Here, among Audouin´s and Slender-billed Gulls, Little, Sandwich and Caspian Terns we came through a striking Lesser Crested Tern. May is the most reliable period to find this scarce species, as they move to their breeding colony in Libya. Back in firm land we patiently waited until dusk to approach a farmland where the endangered Marsh Owl hunts at dusk. As we stepped out of the car, and despite the poor light, a perched owl showed memorably well. We need to stress that approaching the edges of the marshes where this endangered species nests must be avoided during the breeding period.
We started the second day visiting the always rewarding Sidi Boughaba Lagoon in Kenitra. The Maghreb Magpie was the first speciality we found. Large family groups of Marbled Duck, White-headed Duck and Red-knobbed Coot filled the edges of the reedbed. We spent the afternoon in the forest of Ifrane National Park in the Middle Atlas observing Atlas Flycatchers  but we struggled to get good views of the Levaillant´s Green Woodpecker. While looking for the later we came upon a nest of the so-called Maghreb Wood Owl, the NW African subspecies of the Tawny Owl, which some authors suggest as a separate species. The famous Dayet Aoua Lagoon had very little water, where numerous Black-necked Grebes attended their nests. Not far, we found the first Seebohm´s Wheatear of the trip and an eye-catching European Roller.
We started the third day with a walk in the broadleaf forest in search of more Atlas Flycatchers, which additionally produced Western Olivaceous Warbler, Hawfinch, African Chaffinch, African Blue Tit, Short-toed Treecreper and Long-legged Buzzard. After the mandatory stop to observe the Barbary Macaques in Azrou, we drove our 4×4 off the beaten track into the ancient Cedar forest and got great views of a female Levaillant´s Green Woodpecker. We had a tasty tajin for lunch and resumed our way South with strategic stops to observe Seebohm´s Wheatear, Rock Sparrow, Chough, Lesser Kestrel, Ruddy Shelduck, Moussier´s Redstart and riggenbachi and ruficolor type Crested and Thekla Larks, respectively. We reached our hotel in Midelt by mid afternoon and had some rest before visiting the Zaida steppes. Despite the amplitude of the landscape a single Lesser Short-toed Lark and a distant falcon chasing a group of Cream-coloured Coursers were the only birds we found. Far from giving up, we kept our search and our effort was rewarded with lengthy views of two Dupont´s Larks!
Next morning we visited the same spot and we connected with these elusive larks again. Indeed, we realized it was an adult feeding its fledging! Fully satisfied we hit the road towards the desert. A Spiny-tailed Lizard was an additional highlight. Moroccan White Wagtail, Blue Rock Thrush, Blue-cheeked Bee-eater, Desert Lark, Black Wheatear and White-crowned Wheatear were some of the species we enjoyed before going for a walk into the impressive palm grove at Ziz River, south of Errachidia. Both the quantity and diversity of birds sheltered in this oasis were astonishing, and included European Turtle and Laughing Dove, African Reed Warbler, Saharan Olivaceous Warbler, Nightingale, Moussier's Redstart and Rufous Bush Robin. Once in Rissani we got excellent views of a pair of Lanners and a Red Fox, but missed the Pharaoh Eagle Owl… Soon after we reached the spectacular sand dunes of the Sahara in Merzouga. Here we had a warm welcome to our Hotel, a nice dinner and a well deserved night sleep.
Next morning, 27th of May, we admired the very first beams of light in the desert. Thanks to a well studied route we chained excellent views of an array of desert specialities, namely Desert Sparrow, Bar-tailed Lark, Desert Warbler, Greater Hoopoe Lark, Fulvous Bablers and a superb Fennec! However, the biggest spectacle was yet to come as we approached a tiny water hole where hundreds of Crowned and Spotted Sandgrouses gathered for drinking. Next, we visited the isolated farm of Moubarak, a man of the desert who had kindly located an Egyptian Nightjar for us!
Fully satisfied we returned to the hotel to avoid the high temperatures of the central part of the day. Late in the afternoon we returned to the Rissani area and, yes! this time we got excellent views of a Pharaoh Eagle Owl. What a stunner!
Adult female Spotted Sandgrouse offering unbeatable views. Er Chebbi, 27th May 2017.
Next morning we headed west and rather easily located two highly sought after species: Streaked Scrub Warbler and Maghreb Weathear! We then had a relaxed visit to an ancient Kasbah in the exotic Ouarzazate and the impressive Todra Gorges before reaching Boumalne Dades by mid afternoon. Here we found another Pharaoh Eagle Owl and a waterhole with numerous Pin-tailed Sandgrouse, Temminck's Lark, Desert Wheatear, Red-rumped Wheatear, Trumpeter Finch and Thick-billed Lark.
Early next morning we revisited the water hole and found over 20 Black-bellied Sandgrouses, our last species to get the poker of sandgrouses! We then continued towards the Atlantic coast with two successful detours to observe Barbary Falcon and a family group of Maghreb Wheatears. Next morning we visited Tamri National Park. Here we photographed several Southern Grey Shrikes of the algeriensis subspecies, notably paler than the elegans type we had seen in the desert. A group of over 20 Cream-colored Coursers in a sandy slope was a nice surprise and we had a fascinating encounter with the global threatened Northern Bald Ibis, the most iconic species in the region. We then crossed the extensive Argan forest and visited a local cooperative of women including argan oil, honey and hamlou tasting.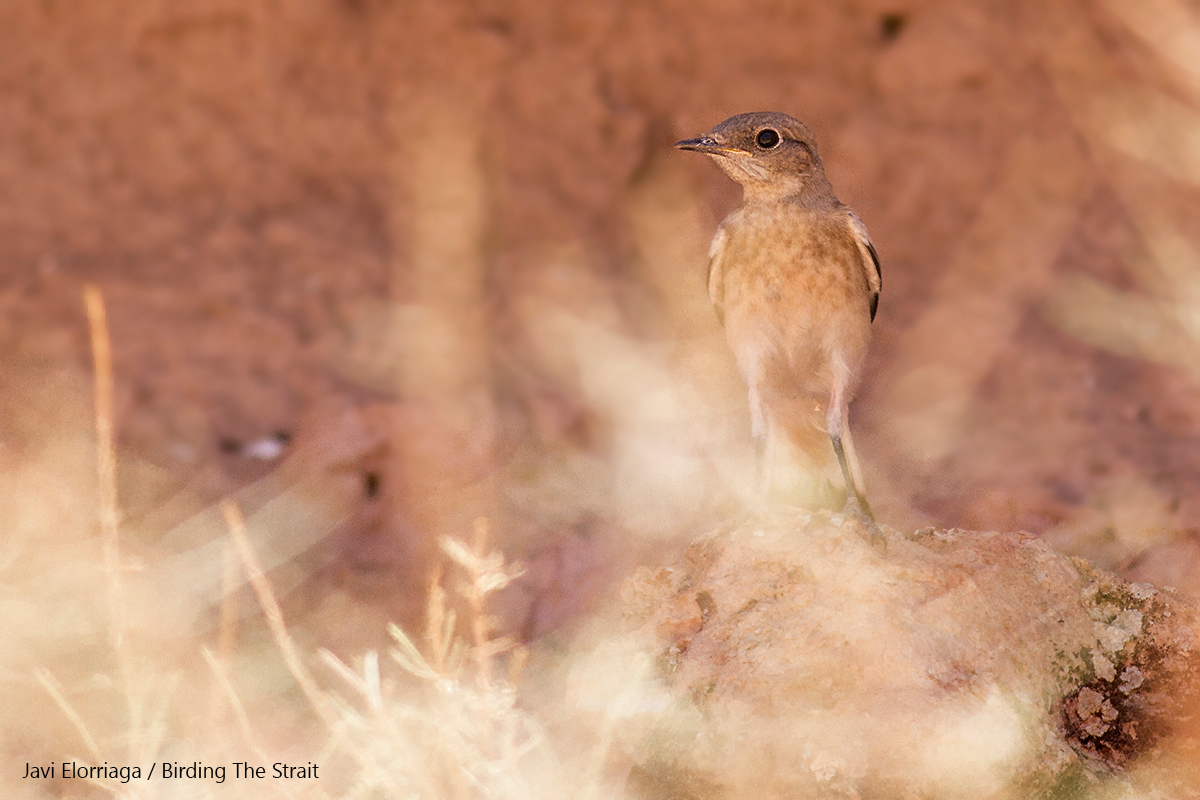 Once in Essaouira we stopped at the river mouth where Eleonora´s Falcons of different color morphs were numerous. Despite the gale, we got close-up views of two falcons having a bath and very much enjoyed photographing them. We then checked in to a charming ryad and had an excellent dinner in the tranquil medina of Essaouira.
On the 31st of May, our last day of birding, we visited Oukaimeden in the High Atlas searching for mountain species. Ascending the mountain road we came through Barbary Falcon, Rock Bunting, Seebohm´s Wheatear, Chough, Alpine Chough and we heard several Quails. We passed Oukaimeden and kept driving and hiking on the breathtaking Tizi-n´Ouadi (2950 m). As soon as we reached the mountain pass we got excellent views of several Shore Larks, Mousier´s Redstart, Black Redstart and Rufous-tailed Rock Thrush. Equally noticeable were the views of the snow-capped Jebel Toubkal (4167m), the summit of North Africa. Suddenly, two African Crimson-winged Finches showed up. We still wanted to get better views of this moroccan highlight but a menacing storm pushed us back to the car. On our way to Marrakech we made a last stop and got close views of an obliging Tristram´s Warbler, the last target of the trip!
We celebrated the end of a very successful tour with a visit to the mythic Jemaa El-Fna Square and an excellent dinner in Marrakech, including a toast for the nemesis of the trip, the Barbary Partridge!!